"When health is absent, wisdom cannot reveal itself, art cannot manifest, strength cannot fight, wealth becomes useless, and intelligence cannot be applied."   – Herophilus
At the farmers market we tasted wonderful BēRUNA, including the sweet things and the salted stuff, so deep and organic the flavors, well balanced and innovating combinations. Every sample was full, tasty and different for food complement. Congrats and thank you….
Our family has been on a journey of learning to eat more healthy. We are in the process of changing our diet to a mostly plant based diet. These seasonings fit right into our mission to eliminate processed foods from our life! Thank you for creating such a wonderful product!
We love your salt! My kids love it on everything. Great product!!
I am in love with the Seed Sweet options! I love the regular ones also but I love substituting my candy and junk food with the sweet options!
We love our seed salt, in particular the black truffle and garlic cayenne…delicious on popcorn, kamut, sautéed veggies – on just about anything! Love the philosophy and love the products.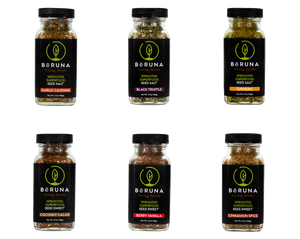 BēRUNA SEED SALT® & SWEET® STARTER SAMPLE PACK (CASE x 6)
Sale price Price $72.00 Regular price Unit price / per
Gift card
Looking for something for someone special? A gift card to our store is the perfect idea!
View