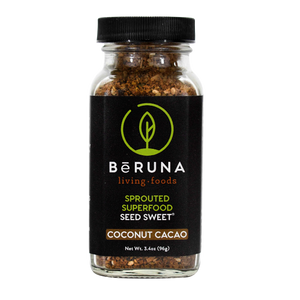 COCONUT CACAO
Sale price Price $12.00 Regular price Unit price / per
SEED SWEET®.  Sprouted Superfood Seed Spice.
Our handcrafted blends of 9 different organic seeds, superfoods, superfruits, spices and coconut palm sugar, are made in small batches, with lots of LOVE! Organic | Plant-Based | Vegan | Nutrient-Dense | mostly Raw | Gluten Free | Non-GMO | and off the charts DELICIOUS! Don't you think it's time you 'SuperSEED the ordinary' and use BERRY VANILLA daily, as your upgraded table sweetener and spice? We promise, it will ELEVATE your eats to new heights!  Who knew 'seedy' could be so good!  Be Blissed!
Pairs BEST With: Yogurt, Oatmeal, Nut Butters, Banana, Smoothies, Ice Cream, Coffee, Popcorn
For optimal flavor and nutrition, please REFRIGERATE!
--
PURE FOOD INGREDIENTS, NO WEIRD STUFF! 
INGREDIENTS: Coconut palm sugar*, sesame seed**, pumpkin seed**, sunflower seed**, hemp seed*, coconut*, cane sugar*, chia seed*, poppy seed*, cacao*, flax seed*, maca*, lucuma*, camu camu*, spices*, and LOVE!
*Organic
**Organic Sprouted