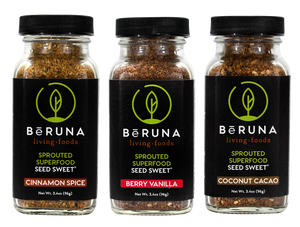 SEED SWEET® BOXED GIFT SET
Sale price Price $38.00 Regular price Unit price / per
SEED SWEET®.  Seeds + Superfood + Sweet.  A handcrafted blend of 9 different organic seeds, superfoods, superfruits, spices and coconut palm sugar, made in small batches, with lots of LOVE!  Super Delicious.  Super Nutritious.  Superfood.  It's Organic, Non GMO, Vegan, Paleo, Gluten Free, & mostly Raw...'over-the-top sprouted goodness'. Experience all 3 flavors:  Cinnamon Spice, Berry Vanilla, and Coconut Cacao.  Use to increase nutrition, flavor & bliss.  Some of our favorites?...yogurt, fruit, toast, oatmeal, pancakes, smoothies, cereal, sweet potatoes, butternut squash, chia pudding, overnight oats, popcorn & ice cream!  Our Tribe has even been caught eating it right out of their hands.  And why not?   Your tastebuds will love it, your body will thank you, and so do we!  Bliss out!
For optimal quality and nutrition, refrigerate after opening.
Select your option below: Cinnamon Spice - Berry Vanilla - Coconut Cacao
--
PURE FOOD INGREDIENTS, NO WEIRD STUFF! 
CINNAMON SPICE: Coconut palm sugar*, sesame seed*, pumpkin seed*, sunflower seed*, hemp seed*, cane sugar*, cinnamon*, chia seed*, poppy seed*, flax seed*, coconut*, maca*, lucuma*, camu camu*, spices*, and LOVE!
*Organic
BERRY VANILLA: Coconut palm sugar*, sesame seed*, pumpkin seed*, sunflower seed*, hemp seed*, chia seed*, poppy seed*, cane sugar*, flax seed*, maqui berry*, coconut*, acai berry*, maca*, beetroot juice*, lucuma*, hibiscus flower*, vanilla*, camu camu*, mangosteen*, and LOVE!
*Organic
COCONUT CACAO: Coconut palm sugar*, sesame seed*, pumpkin seed*, sunflower seed*, hemp seed*, coconut*, cane sugar*, chia seed*, poppy seed*, cacao*, flax seed*, maca*, lucuma*, camu camu*, spices*, and LOVE!
*Organic